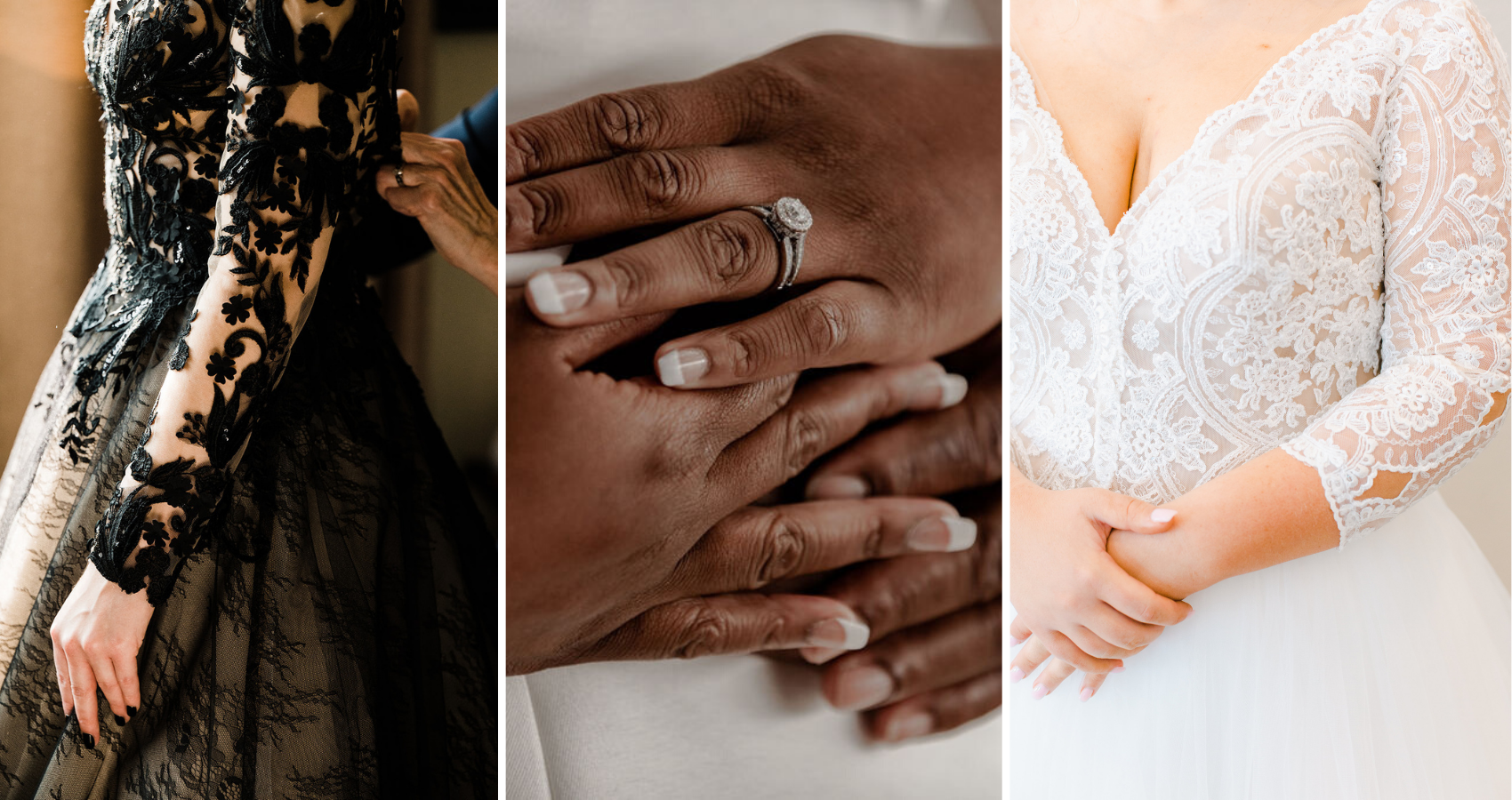 You know that gorgeous ring on your finger? We're thinking it might need some friends in the form of a stylish manicure. No matter your style of gown, dozens of types of wedding nails will fit your fancy (and wedding dress style). From classic nails for the classic bride, unique nails for the unique bride, to girly nails for the feminine bride, we have nail (and wedding dress) inspo for you on your wedding day!
Before you start matching wedding nails to your engagement ring though, make sure to first match them up to your dream wedding dress by taking our Style Quiz and getting your perfect wedding gown at one of our Authorized Retailers.
If you want more bridal tips, tricks, and #MaggieInspiration for your big day, make sure to sign up for some exclusive text messages below!#MaggieInspiration
Classic Wedding Nails for The Classic Bride
Oh, the classic bride! When we think of this elegant, quintessential type of bride we are reminded of famous brides in history like Grace Kelly, Princess Diana, and Jackie Kennedy. With quality gowns of lace, satin, and crepe come quality nails as well.
What are classic nails though? They are typically designed with classic shapes, neutral colors, and nothing too flashy in terms of design (you don't want to distract from that gorgeous diamond on your finger!).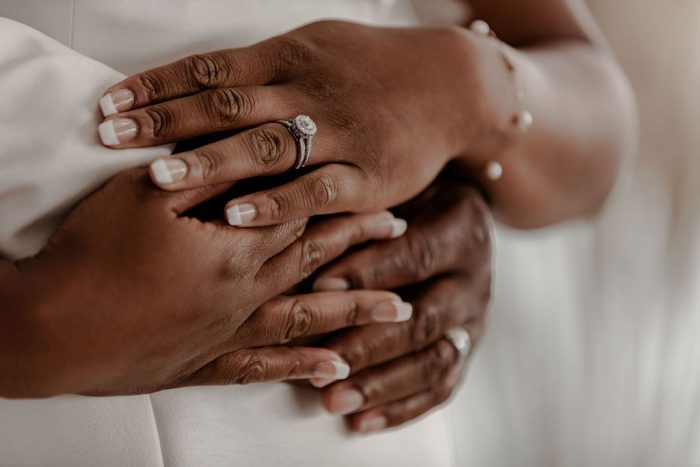 PC: Genesis Imagery | PC: Chelson Tamares | PC: Tetiana Photography
If you're looking for a classic manicure for your chic wedding dress, consider the following ideas:
Classic Shapes: Have your manicure specialist shape your nails into almond, rounded, oval, or square shapes.: These wedding nails mimic the natural shape of your nail while adding a little bit of heightened elegance!
Natural Colors: Consider natural shades in romantic, creamy white, rosy hues, and neutral grays, or nudes.
Minimalist Designs: If you're looking to add a little bit of flair to your classic nail, design your nails with a French nail, natural ombre, or a faint shimmer to accentuate that stunning ring.
With wedding nail ideas as classic and simple as these, you're sure to need some wedding dress inspo to go along with them!
Consider these gowns to pair with any of these classy wedding nails: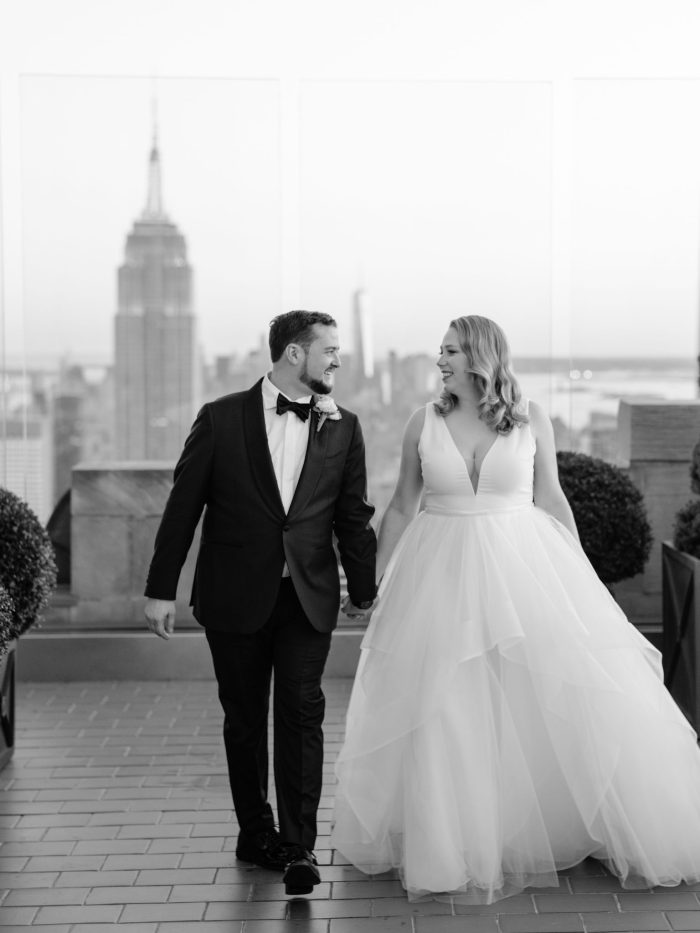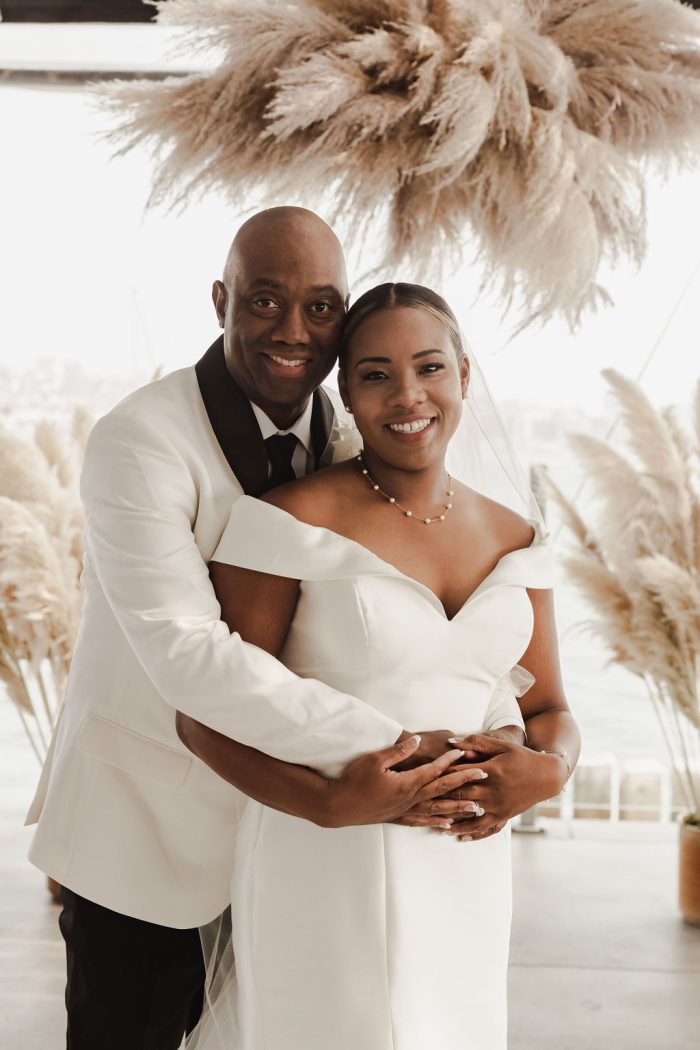 PC: Max McQueen | PC: Tetiana Photography | PC: Genesis Imagery
Fatima by Maggie Sottero: This tulle ballgown is made for princesses (and beautiful classic brides like you! Its gorgeous crepe bodice, deep V-neckline, and a detachable beaded belt would go perfectly with a classic nude manicure with a little bit of shimmer.
Josie by Rebecca Ingram: Want to know the second-best accessory for Josie by Rebecca Ingram (after your gorgeous ring of course)? A French tip manicure! This fit-and-flare, Mikado gown with off-the-shoulder sleeves is beyond gorgeous and elegant. Just like your manicure would be!
Kimora by Sottero and Midgley: There's something about a satin ballgown with a little bit of beading that makes our hearts flutter a little bit. Kimora by Sottero and Midgley is the obvious choice for classic brides who don't want to just feel elegant on their big day – but feel like royalty as well. We suggest a simple taupe or light pink manicure to pair with this luxe wedding dress.
Unique Wedding Nails For The Unique Bride
You only get married once, so make your bridal nails (and wedding dress!) as unique as can be. Match unique wedding nail ideas designed with bold colorways, funky designs, and interesting shapes with unique wedding dresses with boho laces, modern necklines, and ethereal shimmer.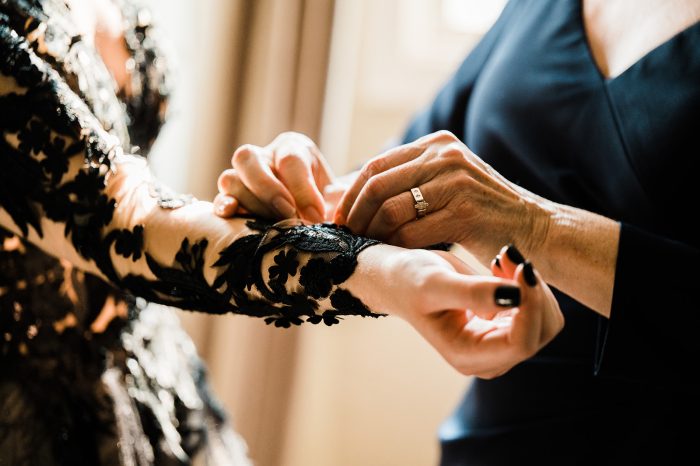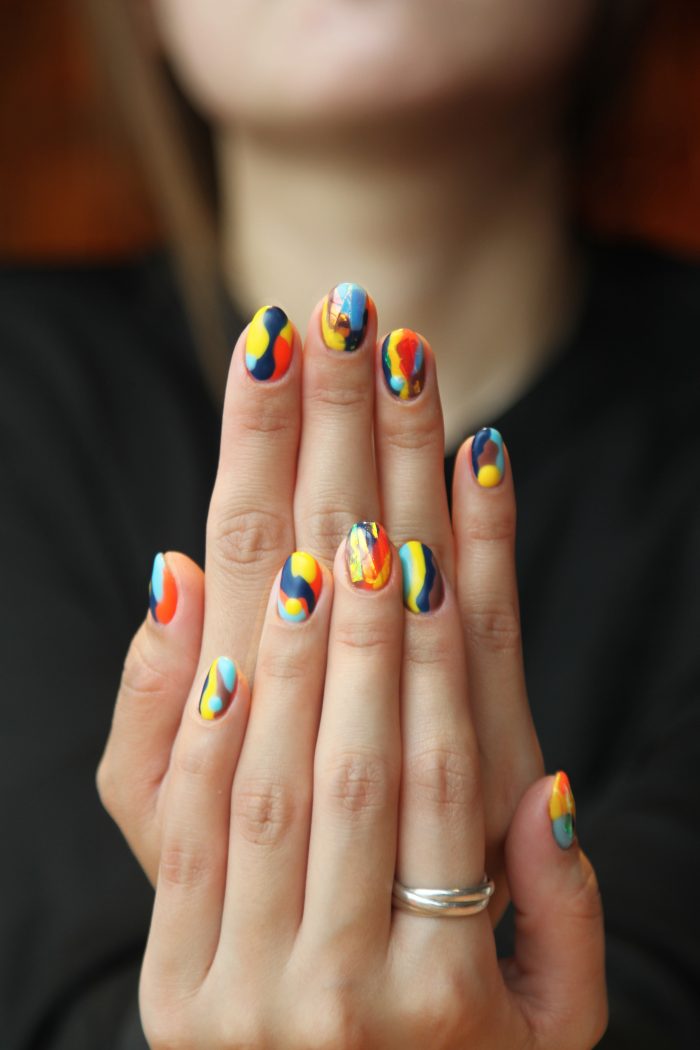 PC: Sam Starn Elopements | PC: Budka Daminsuren | PC: Oswald Elsaboath
Consider these unique wedding nail designs for your distinctively "you" wedding dress:
Unique Shapes: Unique nails can come in any shape and size, but to truly make a statement on your big day consider having them in a stiletto, edge, or flare shape. With all the attention on you and your nails, it's best to make them stand out a bit!
Nontraditional Colors: If you're looking to incorporate some unique nails on your wedding day, the color palette is your oyster! Think bold black, iridescent sparkle, and really any color of the rainbow! Pro tip: consider matching your nail color to your bridal jewelry or florals to create a cohesive look.
Edgy Nail Designs: As we said before, the world is your oyster when it comes to unique nails. Consider abstract lines, bold crystal work, eccentric designs, and even 3D embellishments to highlight your bridal look.
With bride wedding nails as unique as the ideas above, you'll need a gown to go with them! Luckily for you, we have a large collection of individual, sophisticated, and distinctive designs to choose from.
Take a look at these gowns: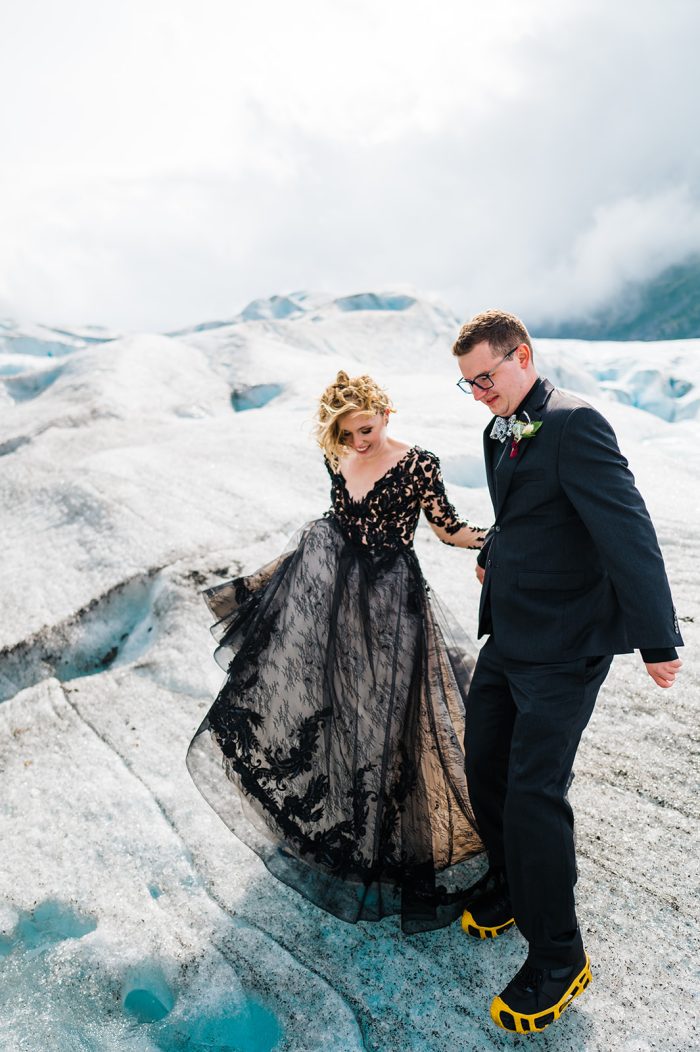 PC: Sam Starn Elopements | PC: Megan Taylor | PC: Alexis Christine Photography
Zander by Sottero and Midgley: Zander is one of the most popular and unique wedding dresses in our Sottero & Midgley collection – and for good reason! Its black colorway, lace layers, subtle shimmer, and decadent sleeves have inspired unique brides for years (especially when it comes to their nails!). Pair this gown with a matching jet black manicure, shimmer rhinestones, or lacy designs.
Kevyn by Sottero and Midgley: Kevyn is on the boho side of unique wedding dresses and that's exactly why we love this gown! Let this high-neck, crepe wedding dress with its miles and miles of lace inspire your unique wedding nails. Incorporate bold colors like turquoise, orange, or purple into your manicure. For an added bit of fun and flair, include abstract designs, bold lines, or a unique French tip into your manicure.
Carmen by Rebecca Ingram: There's little we love more than a sexy illusion bodice with nature-inspired beading, elegant crepe, and a deep V-back – so you can see why we're head-over-heels for Carmen by Maggie Sottero! Incorporate a little bit of nature into your wedding nails with bold florals, intricate vinery, or even crashing waves!
Girly Wedding Nails For The Girly Bride
Femininity knows no bounds when it comes to your wedding day look and that includes your nails! Swooping necklines, romantic designs, and gentle silhouettes are key aspects of your girly wedding day look – and they're just as easy to incorporate into your girly bridal nails too!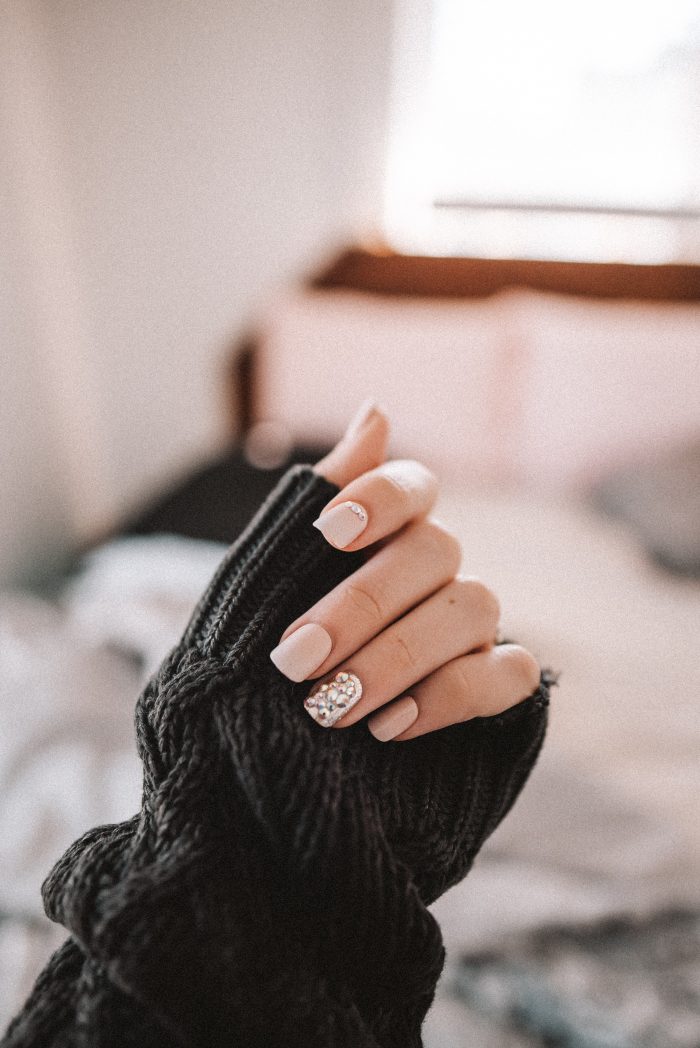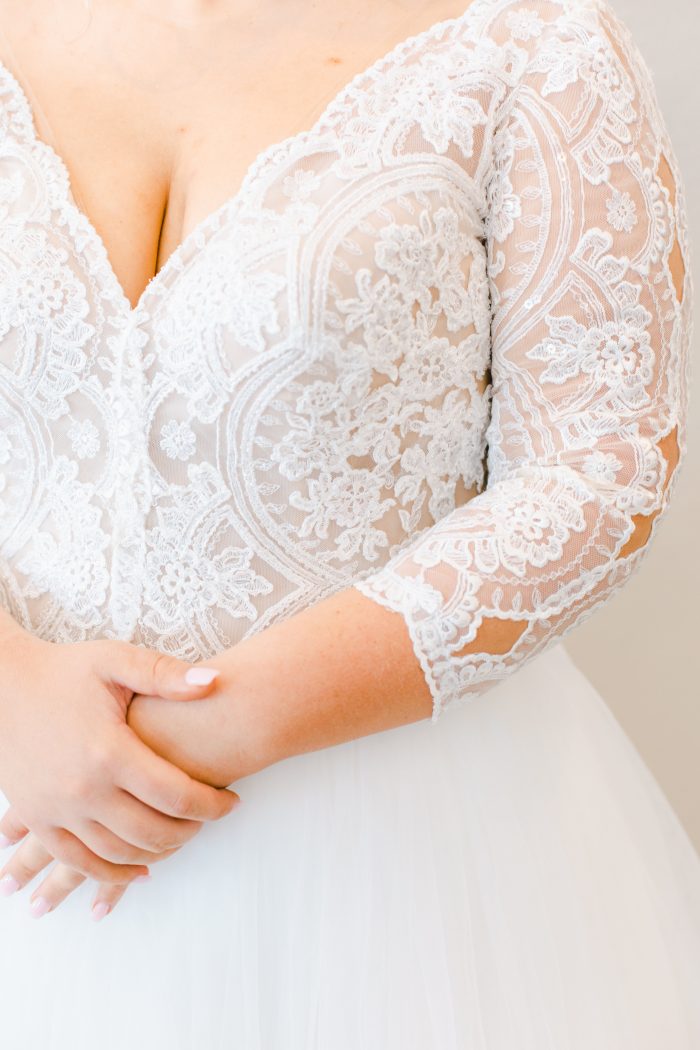 PC: Allison Christine | PC: Ying Ge | PC: Rachel Laxton Photography
Romantic Shapes: Brides who want a more feminine look for their wedding day will want to stick with almond, squoval, or ballerina nails to compliment the feminine shapes of the wedding dress!
Girly Colors: Girly colors are really whatever you want them to be, but typically they're shades of pink and purple – perfect for our brides who want to rock a blush colorway on their wedding dress! We also suggest adding a little bit of sparkle to really show off your feminine side.
Feminine Designs: Hearts, flowers… The more designs for your bridal nails the better when it comes to feminine designs for your girly manicure. A staple in this bridal trend is also accentuating the ring finger with some additional design and flair. The more sparkles the better!
Aren't girly nails darling?! It's like Elle Woods said from Legally Blonde, "whoever said orange was the new pink was seriously disturbed."
Try pairing these pretty in pink wedding nails with some of our feminine loving gowns: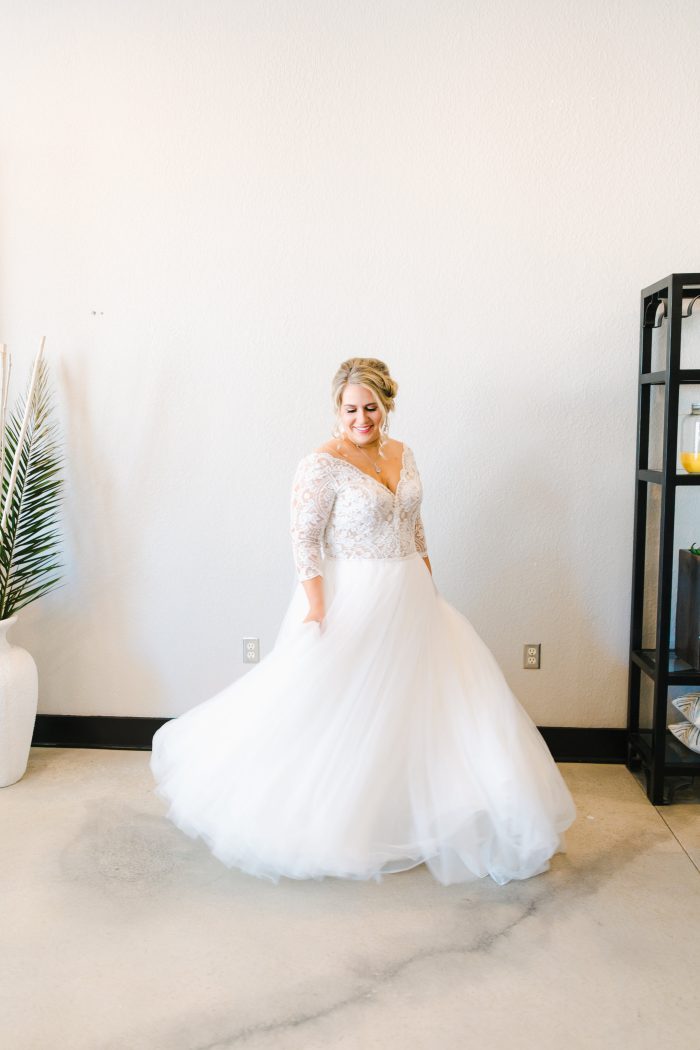 PC: Rachel Laxton Photography | PC: C. York Photography | PC: Megan Rachel Photography
Mallory Dawn by Maggie Sottero: We couldn't ask for a more perfect wedding dress to go with a fresh girly-inspired manicure. The beautiful ivory colorway will not only highlight your skin tone, but it will also make your pink, purple, or French tip nails stand out throughout your ceremony.
Raelynn by Rebecca Ingram: Let Raelynn by Rebecca Ingram inspire your wedding manicure! Match your nail polish color to the beautiful blush colorway of this gown, and the nail design to the floral lace embellishments that flow throughout the A-line skirt.
Tuscany Royale by Maggie Sottero: Tuscany Royale is the definition of glamourous girly with its deep V-neckline, all-over sparkle, and Rococo lace. We suggest going all out when it comes to your nails. Pink, sparkle, designs, you name it.