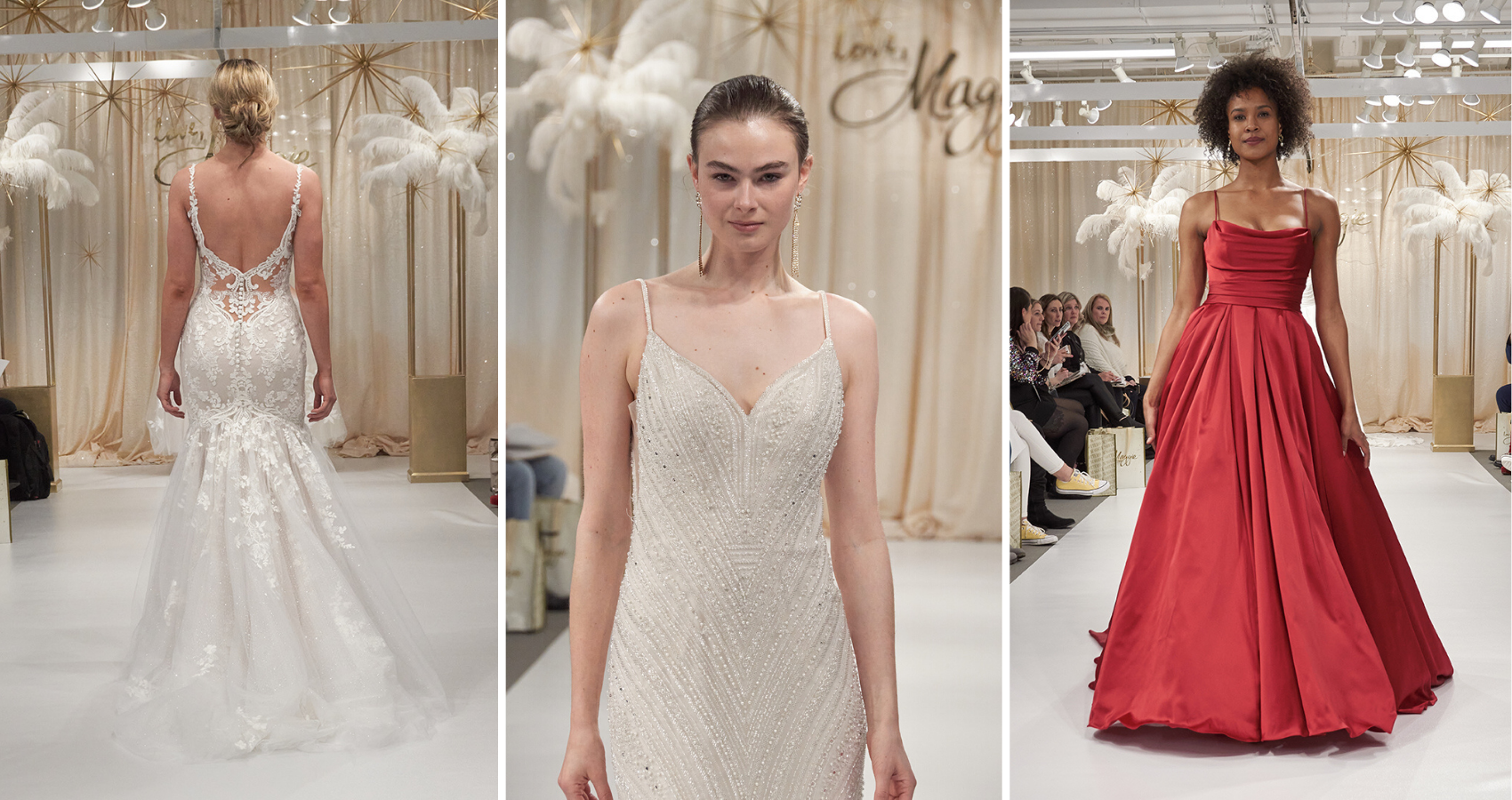 There are a few things that we love about Spring: fresh blooms, warmer days, and the Chicago Bridal Market where we get to debut our runway wedding dresses in our brand-new collection for Fall 2022!
Our newest gowns are full of romantic, dreamy, and feminine energy (swoon-worthy, right?). Though it was hard to pick and choose from these gorgeous wedding dresses, we came up with a list of nine sneak-peek gowns that we think encompass the Fall 2022 Maggie Sottero spirit.
Before you start oohing and awing over these exclusive dresses though, make sure to take our Style Quiz and find the wedding dress style for you. To be in the know on when these gowns hit the stores though, sign up for some exclusive text messages below!#MaggieInspiration
Bridal Trend: Cottagecore and Celestial Styled Wedding Dresses
Call it boho, call it folksy—the "free spirit" bridal aesthetic is all about soft, billowy, ultra-romantic wedding gowns that look straight out of a woodland fairytale. Our take on the cottagecore bride trend? We believe exposed boning, vintage bishop sleeves, and fresh princess silhouettes in a variety of shimmer, illusion, and lace embellishments are the way to go.
While we might have been inspired by woodland fairytales for cottagecore gowns, we took queues directly from the galaxy for our celestial-styled wedding dresses. Soft shimmers that remind us of starlight, lacy beaded backs as intricate as the Milky Way, and vibrant colors as rich as the night sky were our inspiration behind our new Maggie Sottero, Rebecca Ingram, and Sottero and Midgley gowns.
Recurring Trend: Simple, Satin, And Stylish Wedding Dresses
Simplicity and satin wedding dresses will never go out of style, so of course, it's back for another year in a row! We incorporated this sexy and elegant fabric into beautiful ballgowns, sleek fitted dresses, and sexy backless gowns.
Updated Trend: Bridal Gowns With Unique And Intricate Backs
Open back were our bread and butter, but we've given them a little bit of a facelift with gorgeous intricate, lace backs with dreamy buttons. Whether you're looking for something fierce, sexy, romantic, or dreamy, you'll find your dream back in our collection of new runway wedding dresses!
Trend Becoming a Staple: Colorful Wedding Dresses
Gone are the traditional ivory colorways for wedding gowns! Instead, colorful wedding dresses are dominating bridal fashion. Maggie Sottero Designs hopped on this train early with our collection of black wedding dresses like Zander by Sottero and Midgley, as well as are personalization options of gowns in misty mauve and blush; Now we are offering gowns with hints of green, pink, and RED!
Recurring Trend: Versatile Bridal Accessories
This season serves up another stunning selection of bridal accessories, from statement capes and classic veils to removable sleeves and blingy embellishments. We're loving these trends for their versatility; brides have more options than ever to personalize their wedding aesthetic, switch up their ensemble between ceremony and reception, and create a one-of-a-kind look for wedding photos.
Fresh Trend: Bold Beading and Unique Sparkle
While we still adore romantic lace and glamorous simple wedding designs, intricate and unique beading has captured our hearts (and it will capture yours too!). Whether you're looking for sexy or elegant, boho but modern, you will fall in love with our beaded gowns this Fall 2022!
Without further ado, here are some of our runway wedding dresses we debuted in Chicago! You'll be able to shop these stunning new designs faster than you can say "I do!" Be sure to contact an Authorized Retailer near you for more information.
Now that we've covered the most popular bridal trends of the season, we'll dive into our gorgeous lineup of hottest runway wedding dresses. Scroll on!
Runway Wedding Dresses from The Maggie Sottero Collection
Ethereal, effortlessly sexy, celestial, and feminine were a few of our inspirations behind our Fall 2022 Maggie Sottero collection. We aimed to capture the energy of Audrey Hepburn, Jane Austen novels, and the stars themselves. You will see these inspirations come to life the flowy fabrics of our skirts, tonal beading, and delicate laces that embody modern romance!
Modern Romantic Scarlet by Maggie Sottero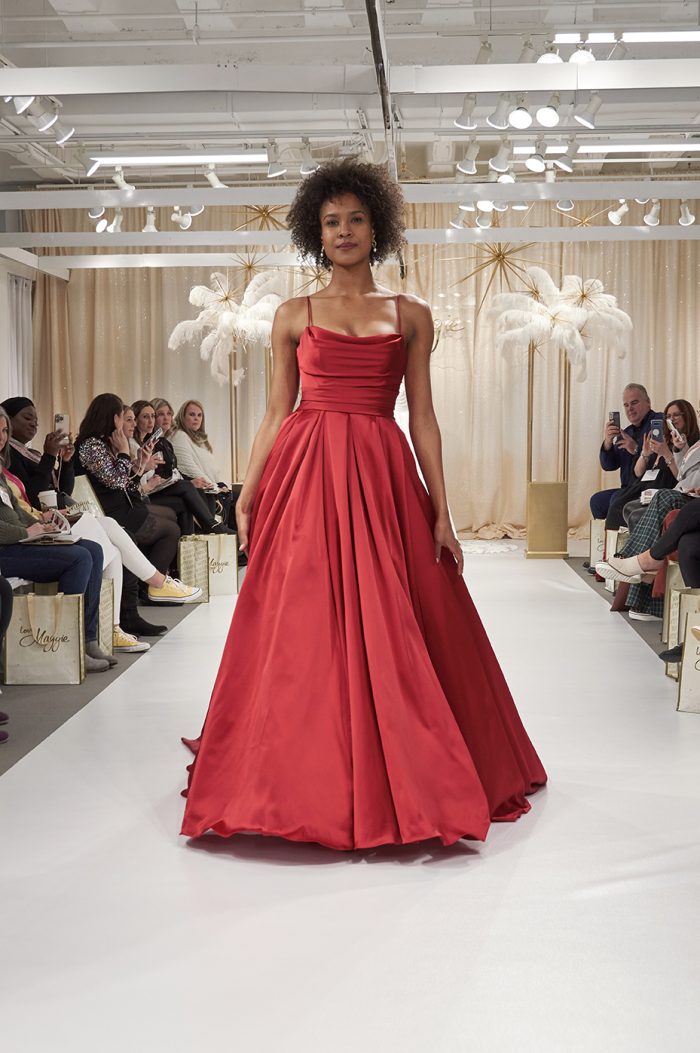 Scarlet is the first of our red wedding dresses to make a debut this season and boy does this gown make a statement! However, if you are a more traditional bride don't fret! This gown also comes in a classic bright white colorway.
This striking A-line dress showcases key trends for Fall 2022; gorgeous, sophisticated satin, a dreamy scoop neckline, and an elegant V-back. P.S. This dress has pockets!!
Sexy & Effortless Kern by Maggie Sottero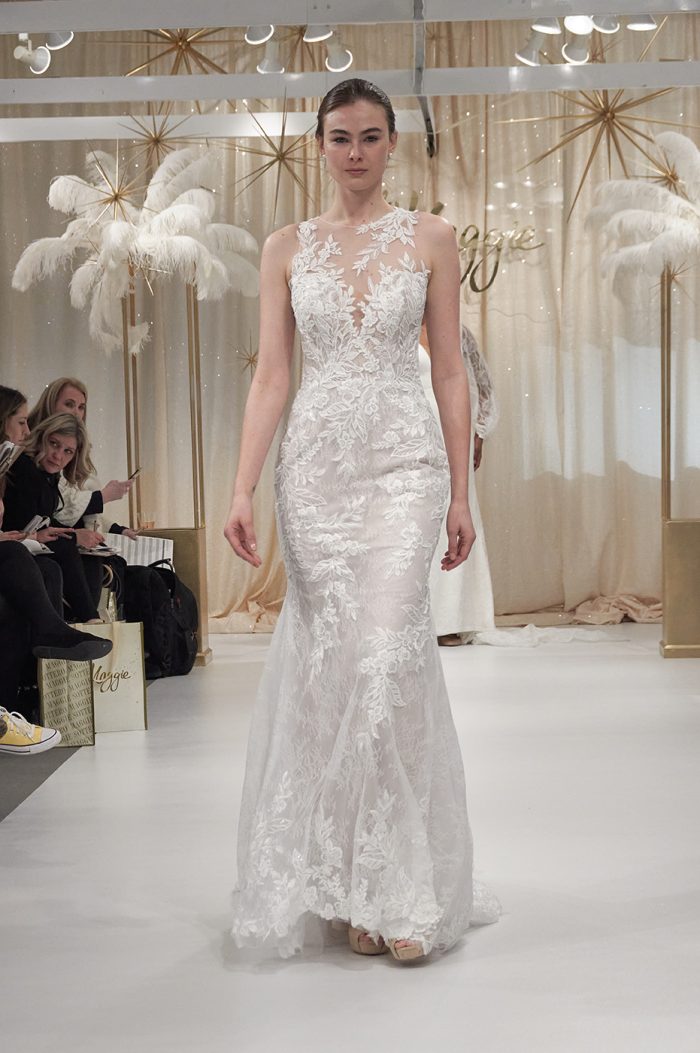 At Maggie Sottero, we are all about that back which is why Kern by Maggie Sottero is one of our (and our retailers!) favorite Fall 2022 runway wedding dresses. This stunning fit-and-flare gown is completely backless with garden-inspired illusion lace covering it.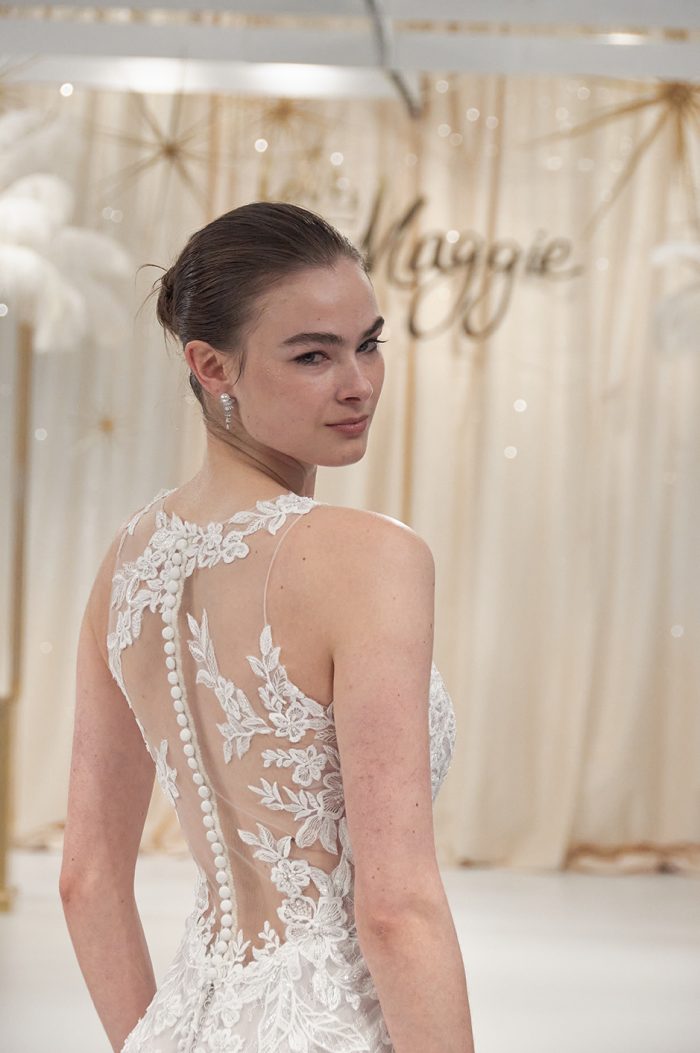 We could totally imagine this lace and organza gown in a rustic and boho ceremony with fresh florals surrounding you and your partner as you say "I do." If you love this gown but want to have a little bit more drama, you can personalize this dress for your love story by adding an extended train!
Ethereal Ekaterina by Maggie Sottero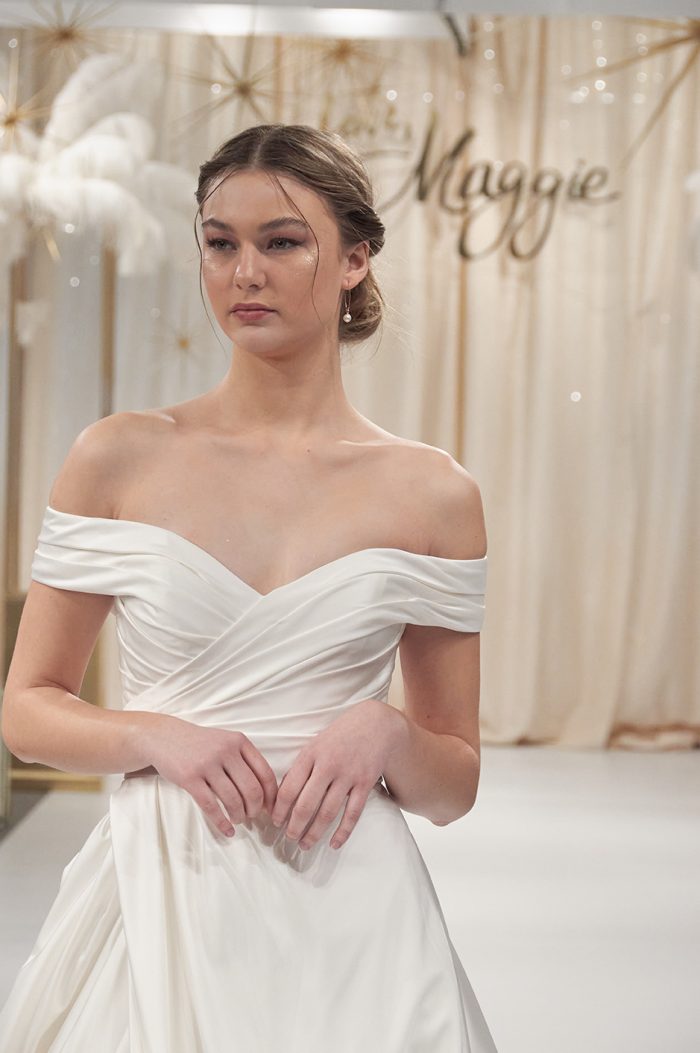 Is there anything better than off-the-shoulder straps and a skirt slit?! We didn't think so. Those are just a couple of the reasons why we are head over heels in love with Ekaterina by Maggie Sottero.
We love its beautiful satin fabric, portrait neckline, and vintage-inspired buttons. This gorgeous satin gown is perfect for our classic brides, our modern brides, and every bride in between!
Runway Wedding Dresses From The Rebecca Ingram Collection
Our Rebecca Ingram line has always been for the bride wanting to look chic, bohemian, and beautiful without breaking the budget, and our Fall 2022 runway wedding dresses are no different!
These understated romantic wedding dresses are giving us "Folklore" by Taylor Swift, and walks through a moonlit forest. They're giving us soft and dreamy crepe, boho glamour lace, and romantic necklines. They're giving us the perfect gown for your big day, so keep scrolling to find the one for you from our new collection!
Garden-Inspired Wendi by Rebecca Ingram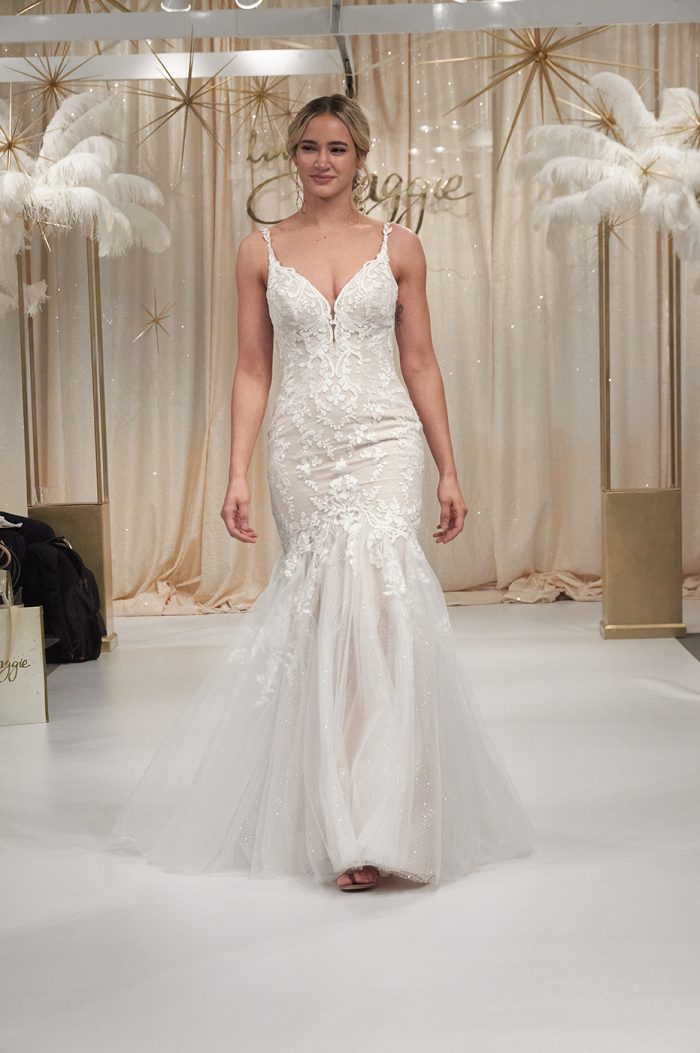 Wendi by Rebecca Ingram is one of those mermaid wedding dresses that will look stunning at any angle. This unique gown is head-to-toe lace and head-to-toe glitter (what could be better?!). On top of all that though, it also has a sexy illusion lace V-neckline as well as an open illusion lace back that has us practically salivating.
What we also love about this gown is the versatility of the style. This mermaid wedding dress could be worn in an ornate ballroom, a whimsical rustic barn, or on the beach at sunset. Some might say the sky is the limit, but we think Wendi is!
Understated Romantic & Bohemian Ansleigh by Rebecca Ingram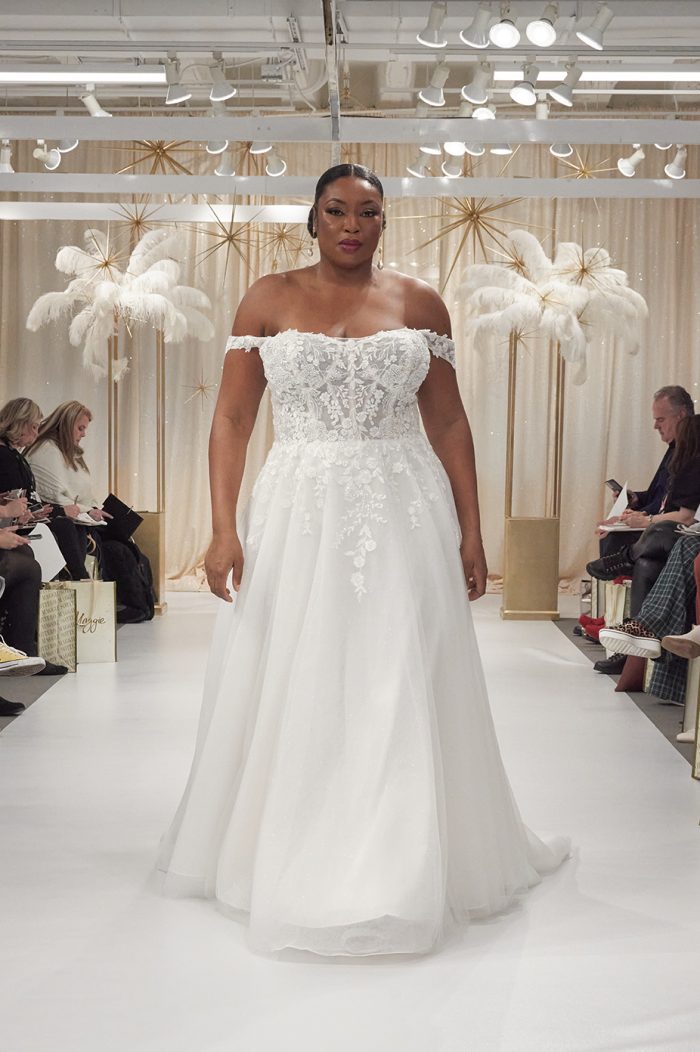 Exposed boning is all the rage right now which is why are absolutely obsessed with Ansleigh by Rebecca Ingram. With its elegant corset covered by sparkle tulle and garden-inspired lace, it's giving fairy princess and rustic elegance.
Ansleigh is a brides customization dream for their wedding day. Not only are you able to add dreamy detachable off-the-shoulder sleeves, but you can also add an extended train for more drama, and buttons down the back for more of a vintage vibe!
Soft and Glamorous Lily by Rebecca Ingram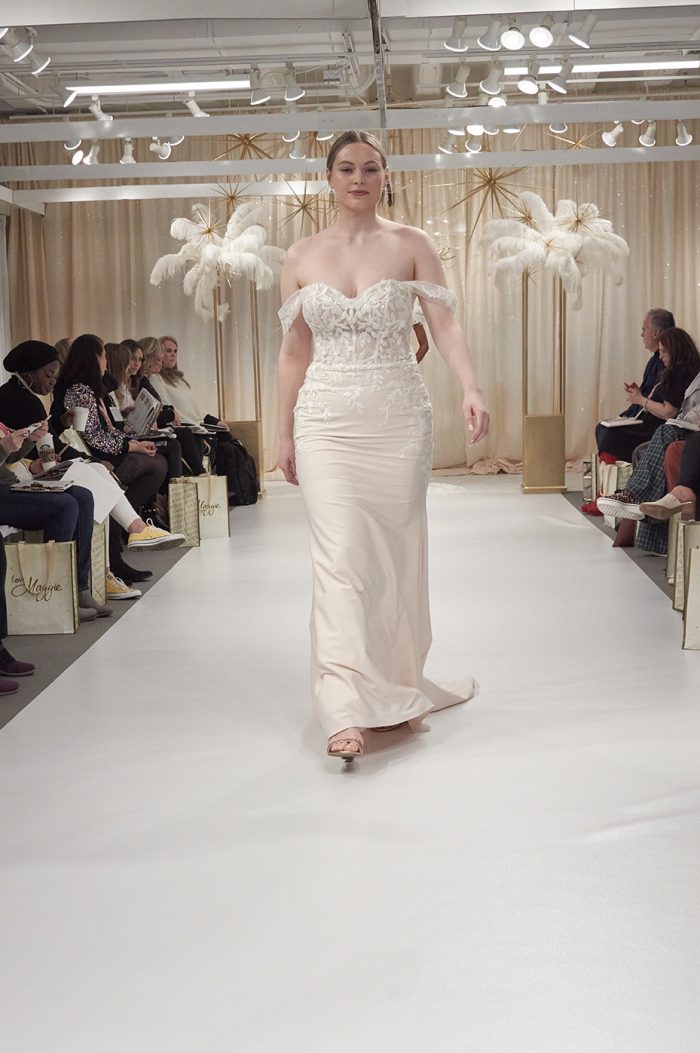 Lily by Rebecca Ingram? We dream of her. This sweet fit-and-flare gown has stuck with us because of its classic sweetheart neckline and floral, shimmer lace. As if this wedding dress couldn't get better, it's also hitting one of the bridal trends we've seen this season with it's exposed bodice with boning detail.
Honestly, we could go on and on about Lily. We couldn't get enough of this creamy crepe gown, so we created a Sister Style for her: Lily Lynette by Rebecca Ingram!
Runway Wedding Dresses From The Sottero and Midgley Collection
Sottero and Midgley is couture. It's attention to detail. It's bold, beautiful designs that make a statement. Our Sottero and Midgley line has always been for the brides who want to make a unique statement on their wedding day and step out of the box. And our Fall 2022 runway wedding dresses certainly do that!
This collection full of dramatic gowns fit for royalty, luxe, elevated bohemian, and celestial glamorous gowns that are practically out of this world! Keep scrolling to find the striking gown for you.
Impeccably Fitted Boston by Sottero and Midgley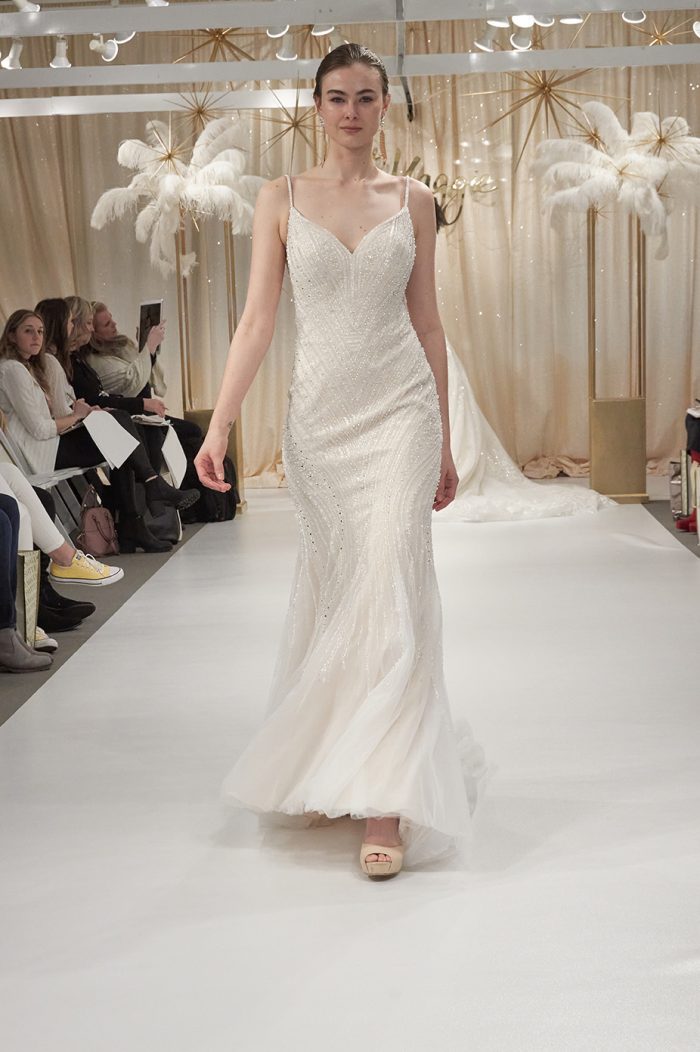 Have you ever dreamed of being a star? Well, that dream is made reality when it comes to Boston by Sottero and Midgley. This head-to-toe beaded gown is all about attention to detail and dramatic beauty causing you to practically sparkle with all the unique diamond and pearl beading.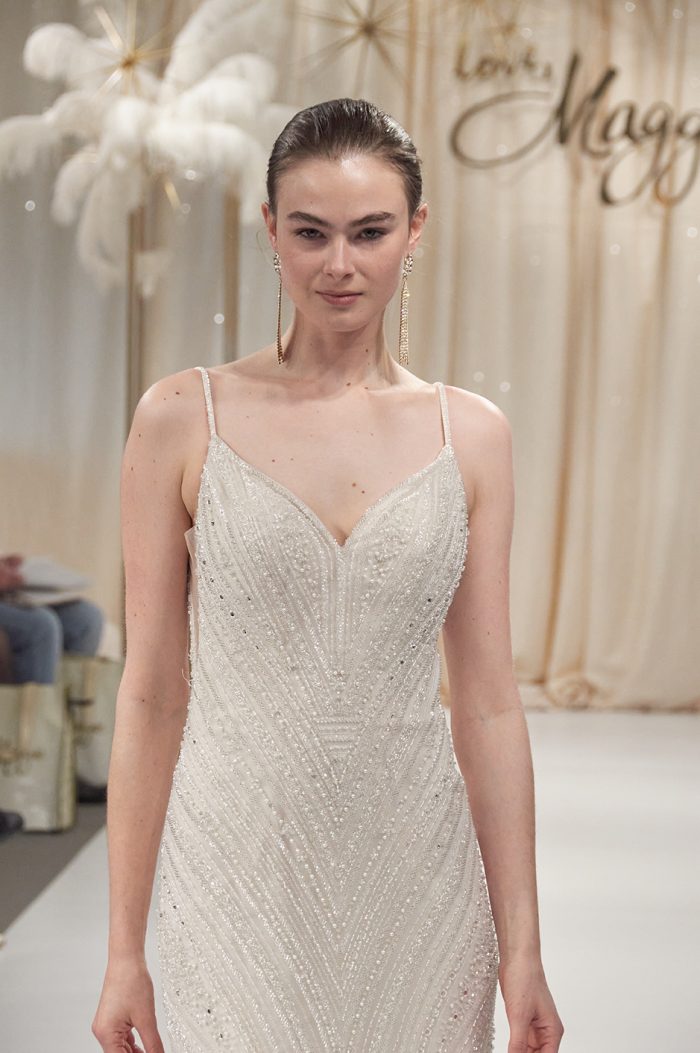 While all the shimmer in this gown will make you feel like a midnight star, the intricate design and fit will make you feel like a vintage starlet. The art-deco design on this reminds us of the 1920s flappers, and all things glamours — especially with that deep V-back that this wedding dress sports!
Regal and Lacy Kingsley by Sottero and Midgley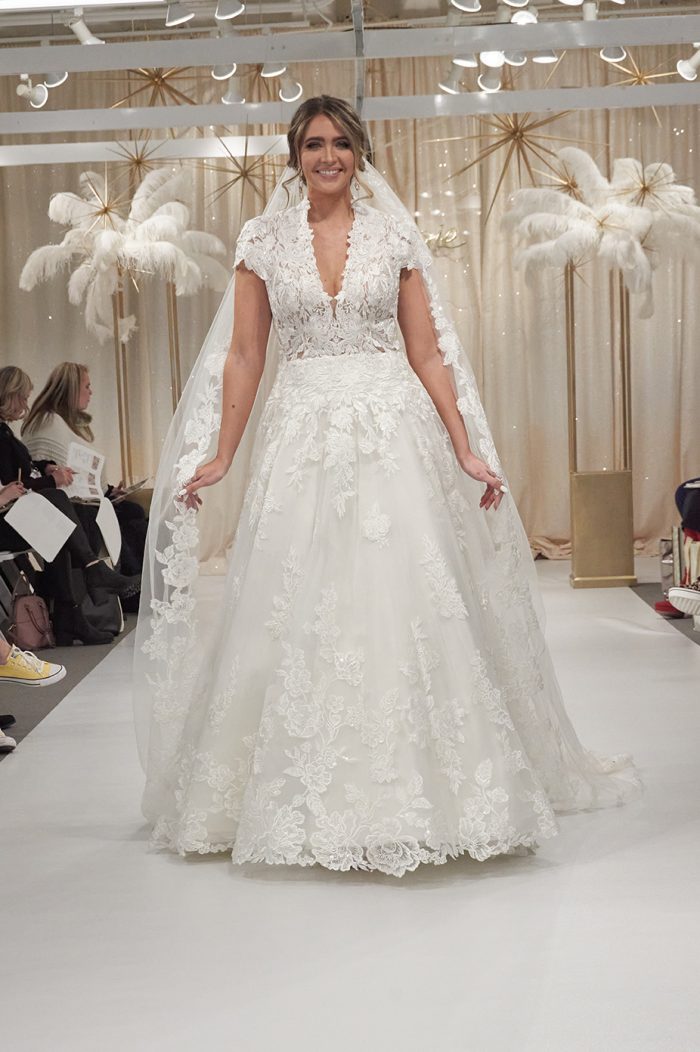 Whereas Bailey is all vintage beading, Kingsley is all vintage lace. The only place we can imagine this gown more than down the aisle is in a ballroom presiding over a court (can you say Bridgerton??).
Beautiful, floral lace, and a deep V-neck are just a few of the highlights of this ballgown wedding dress. We are also absolutely obsessed with its elegant cap-sleeves and open keyhole back. We immediately feel butterflies in the stomach looking at this gown, and you will too!
P.S. You can personalize this gown for your love story by removing the scalloped lace train, adding buttons down the back for a vintage vibe, adding long fitted sleeves, adding an illusion lace back, and adding a cathedral length wedding veil with lace motifs!
Glamorous Princess Elton by Sottero and Midgley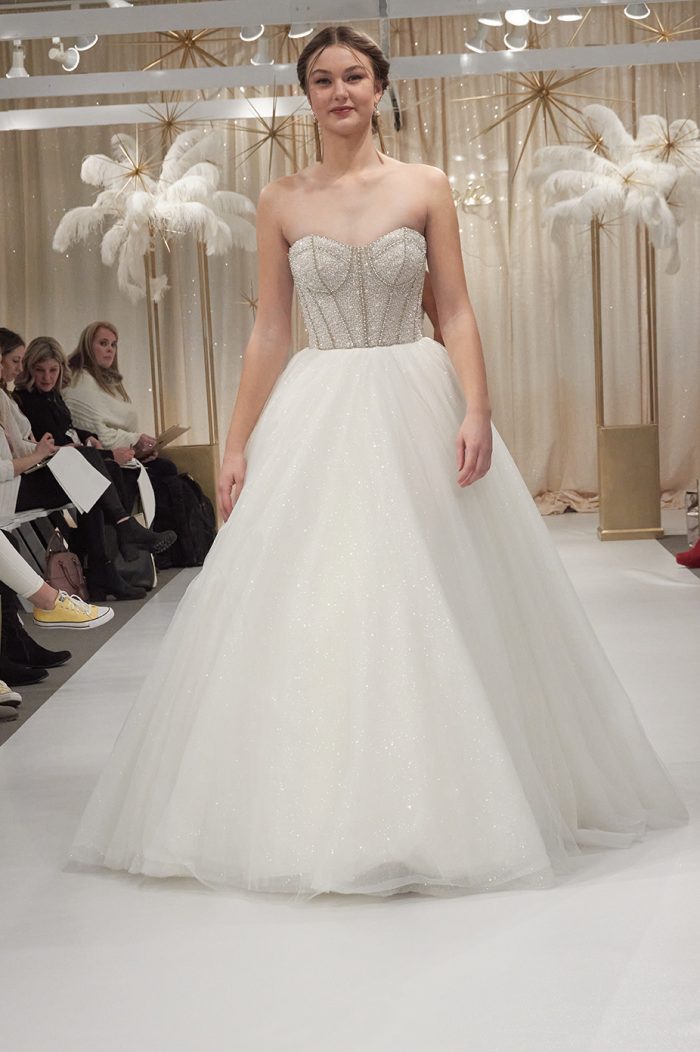 Last, but certainly not least is Elton by Sottero and Midgley! This ballgown is giving drama, glamour, and modern disco princess! To put it simply, it is a showstopper.
With a beaded illusion bodice with corset detailing and glitter tulle, you will feel as dramatic as a fallen star. As romantic as a first kiss. As fierce as Beyonce. Make sure to shop this gown when it hits stores for a unique, dramatic look!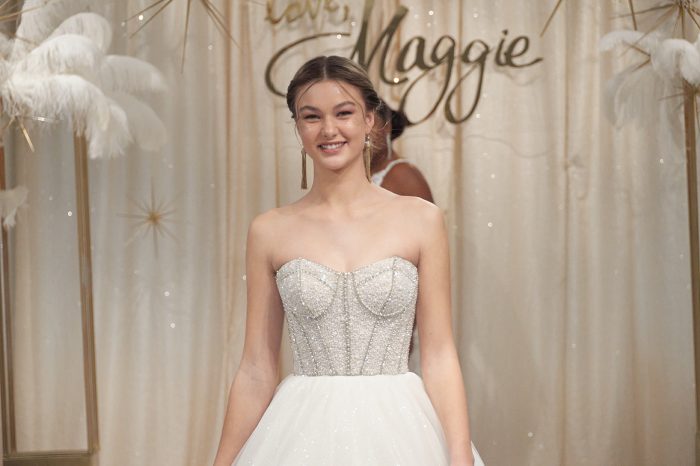 Excited to shop these off-the runway wedding dresses for your upcoming celebration? Find A Boutique near you to see which gorgeous new styles are headed your way! Shop an array of stunning runway wedding dresses to create your perfect head-to-toe bridal look; you can personalize all kinds of fabrics, accessories, and details—from veils to layers to embellishments—with your bridal stylist.
Love these hot off-the runway wedding dresses from Maggie Sottero? They will be available in boutiques and will be live on our website in the coming months. So, keep an eye out on our Instagram, Facebook, and YouTube for when this season's collection drops!
Make sure to also sign up for our exclusive Newsletter to be in the know on all things Maggie!